Great to see the NZ Herald catching up to The Daily Blog…
Great Minds: NZ's mental health 'crisis' – more Kiwis struggling with wellbeing since Covid, research reveals
The number of New Zealanders struggling with poor mental wellbeing has risen sharply during the Covid-19 outbreak, according to research obtained exclusively by the Herald, prompting calls from leading health figures for an urgent national recovery plan.
Polling for the Mental Health Foundation found that 36 per cent of people surveyed were experiencing poor emotional wellbeing, up from 27 per cent a year ago, an increase that the foundation says is significant and concerning.
…We've been pointing out for 2 years that after the immediate health impact of Covid and the economic carnage would be the mental health damage of isolation.
We are seeing that mental health pressure exploding everywhere from the Dumb Lives Matter protest on Parliament's Lawns, to domestic violence, to fights in Supermarkets to a spike in crime to the Wellington Middle Class Marxists screaming to send in the military to bash protestors they didn't like.
Everyone has been impacted mentally by these unprecedented times and the true cost is yet to be felt.
That's why the lack of any real progress on mental health is so concerning…
Andrew Little defends Government after report finds no change in access to acute mental health services despite $1.9 billion boost
Health Minister Andrew Little is defending the Government after a report found no change in access to acute and specialist mental health services despite a $1.9 billion funding boost. 
The Mental Health and Wellbeing Commission on Tuesday released its new report for 2022 which assessed what is working well, and what is not, in the mental health and addiction sector. It found no change in access to specialist mental health services in five years despite the Government's huge cash injection in 2019. 
…the Herald's solution is making a Rock station breakfast host their 'Happiness Editor' – I shit you not –  TDBs solution is the conflict at the heart of Mike King's criticisms.
Mike's system sees immediate free counseling to create a means of gaining mental well being before it gets to crisis levels.
Mike is providing 15000 hours of counseling within days of asking for help for a tiny fraction of the 20000 hours the Ministry provided.
From the blunt perspective of the Ministry, half of suicide victims don't ever bother to reach out before committing suicide so why bother putting money into something that has so many variables.
And it's mostly men who kill themselves and make mortality rates don't matter much politically unless they are killing others.
Mike is exposing the callous indifference of the Wellington bureaucrats while embarrassing them by providing a far more cost effective counseling service while highlighting Labour's lack of leadership.
As Dave Macpherson points out, King's scathing criticism of a broken mental health system has made him enemies who see their fiefdoms threatened by his solutions.
After sinking $1.9billion into mental health. all Labour have to show is 5 extra acute beds. Labour don't have the muscle to bash heads to get results.
The real difference difference between Labour and National is this.
National are ruthless pricks. Nasty, bullying ruthless pricks and you need nasty bullying ruthless  pricks to beat the bejesus out of the Wellington bureaucracy to actually get shit done.
Labour on the other hand wants to give everyone a cuddle and an inclusive Hui with a vegan lunch menu in te Reo and a side dish of pronouns, where they all feel safe and as such, the Wellington bureaucracy isn't scared of Labour.
Jacinda pumped $1.9 billion into mental health and what has she got for it? 5 extra acute mental health beds! The Wellington bureaucracy are laughing at her and divvying up the latest splurge of cash on whatever they want.
New Zealanders don't understand that the representative democracy they interact with once every 3 years is merely a masquerade of democracy, a pretense to keep you voting and giving the process the flimsiest of legitimacies, the real powers are the Wellington bureaucracy and a Party's success is determined purely by how much they can force the Wellington bureaucracy to actually implement policy.
In the words of the great Unionist, Robert Reid…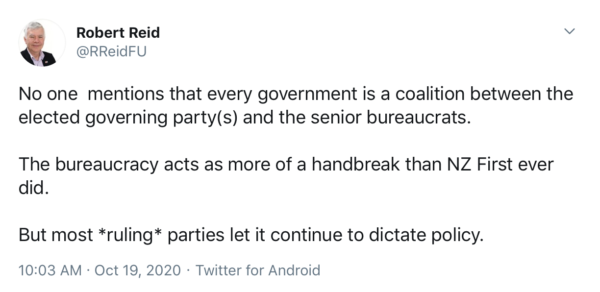 National got shit done because the Wellington bureaucracy was frightened of them, Labour can't achieve jack shit because they are too busy giving everyone a cuddle.
Labour can't bully or headkick the Wellington bureaucracy and that's why nothing ever gets done.
If we want real change in mental health, using Mike's funding model to bypass the bureaucracy is the solution.
Increasingly having independent opinion in a mainstream media environment which mostly echo one another has become more important than ever, so if you value having an independent voice – please donate here.
If you can't contribute but want to help, please always feel free to share our blogs on social media