Parliament grounds clean-up crew to show 'what community actually looks like' video
Wellington volunteers are planning to clean up Parliament grounds in order to return the area to the public now protesters who have occupied the site for more than three weeks have been evicted.
The way some are holding that fucking slide up as some sort of religious sacred ground is driven by a political need to justify the Police action.
If you label everyone protesting as a Nazi, you need to fetishise the damage they did.
These Nazi Monsters on Parliament's lawns didn't have pronouns, the Left only like protests that know their pronouns.
The slide is more important than the people whose pain burnt it because the smelly Lumpenproletariat ruined the dinner party aesthetics of Wellington's Middle Class Marxists.
The $585000 slide was an expensive virtue signal while 25000 wait on emergency housing wait lists.
The canonisation of Parliament's lawns is an important myth that must now be worshiped to justify State force.
There will be taxpayer funded art to commemorate the hate crime of protest, local artisans will knit together a peace quilt weaving together their pubic hair with recycled sustainable plastics.
Every native tree replanted will need a ceremony and its own twitter account.
The replacement slide will get a live interview with John Campbell.
The pain of those who suffered the harshest yoke of economic sanctions will be cauterised and amputated so that middle class dinner party aesthetic activism can once again rule Wellington.
You can build your fucking slide after we've housed those 25000 waiting on emergency housing lists.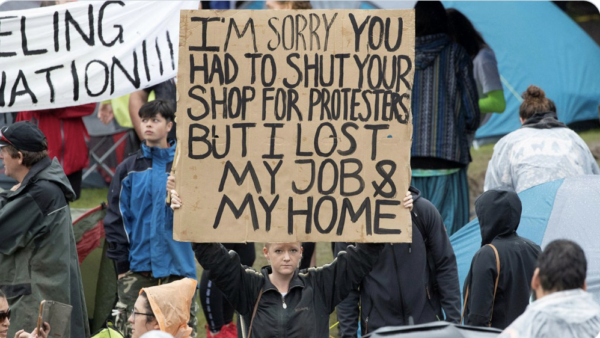 Increasingly having independent opinion in a mainstream media environment which mostly echo one another has become more important than ever, so if you value having an independent voice – please donate here.
If you can't contribute but want to help, please always feel free to share our blogs on social media.