Let's Get Wellington Moving: We will commit to a plan after public consultation
Let's Get Wellington Moving says big decisions are on the way on four different options to overhaul the capital's transport.
Three include light rail to Island Bay and a priority bus system to the airport and eastern suburbs.
A second Mount Victoria Tunnel is also on the cards to separate traffic from walkers and cyclists.
Acting Programme Director David Dunlop told Heather Du Plessis-Allan a call will be made when public consultation is completed.
Let's Get Wellington Moving is a joke that sums up NZ perfectly.
None of this desperately needed mass transit infrastructure will start until 2028!!!
How is maybe starting something in 7 years a solution?
Look at the bloody waste of time already spent on these empty promises…
…this country is all Hui, no do-ee.
We desperately require a Ministry of Works that actually does this for ourselves rather than the hopeless and never ending consultation bullshit that goes no where.
Meanwhile in Auckland, this is being mooted…
Auckland Council drawing up radical plan to remove parking on roads across the city
Auckland Council is drawing up a radical plan to remove parking on many of the city's roads to make way for more bus lanes and cycleways.
Tomorrow, councillors will consider a new parking strategy that means Aucklanders will no longer be able to rely on parking outside their homes.
The focus will be on arterial roads, but council planning committee chairman Chris Darby and Auckland Transport are not ruling out removing car parking on side streets from emerging problems like housing intensification.
The strategy is an attempt to cut the city's greenhouse gas emissions by reducing the distance travelled by petrol and diesel cars and shifting towards more climate-friendly forms of transport.
…the solution for NZ is free public transport.
Punishing Aucklanders for having a car is fine, I hate cars and don't drive, but you can't punish them without providing a real alternative and only free public transport can do that.
As always, the left are fucking this up…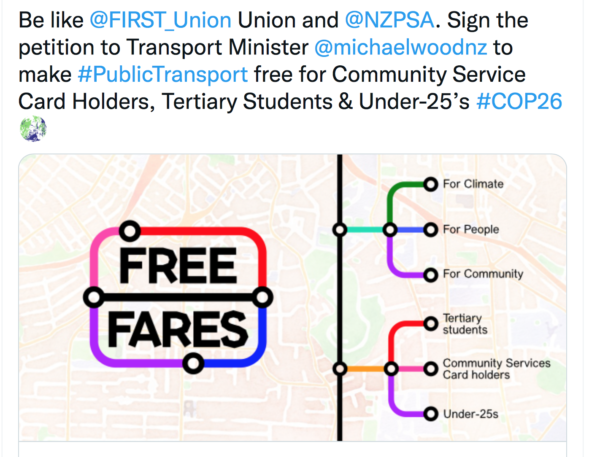 …it's like they can't help but alienate!
Make it free for EVERYONE and you will actually get Aucklanders out of their cars AND help the poor.
Make it only abut the poor and nothing happens!
Increasingly having independent opinion in a mainstream media environment which mostly echo one another has become more important than ever, so if you value having an independent voice – please donate here.
If you can't contribute but want to help, please always feel free to share our blogs on social media